Selling Your Home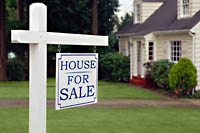 For most families, deciding to sell their home is a big decision that often can involve some preparation and work. When you're ready to sell it's important to know an experienced real estate professional you can turn to who can handle the details involved in the successful sale of your home for top dollar.
As an experienced professional with over 30 years experience, I know how to handle every aspect of the sales process - from strategically marketing, staging and showcasing your home to making sure everything's signed, sealed and delivered by the closing date.
Comprehensive, high-quality listing service is my top priority!
As you start start the preparation work, the first concern is the home's exterior. If the outside, or "curb appeal" looks good, people are going to want to see what's on the inside. Here are some tips to enhance your home's exterior and curb appeal to buyers:
* Keep the lawn cut, edged and watered.
* Regularly trim hedges and weed hedge and flower bed areas.
* Make sure your front door area has a "welcome" feeling
* May need to paint front door for fresh look.
* Add a couple of flowering pots of showy annuals at front entrance.
* Check foundation, steps, walkways, walls and patios for cracks and
deterioration - fix any problem areas.
* Remove and repaint any peeling paint on doors and windows.
* Clean and align gutters.
* Repair and/or replace loose or damaged roof shingles.
* Inspect and clean chimney where appropriate.
* Repair and repaint exterior and caulking.
* Reseal old asphalt
* Keep the garage door closed.
One of the services I always offer my sellers is professional staging of their home's interior. The proper placement of your home's furniture, artwork and accessories is critical in today's tougher market. It is so important to "stack the deck in your favor" whenever possible. My stager will set an appointment to visit your home to either offer a list of needed changes for your review ..OR...she will actually completely stage the rooms for you to help make sure your home stands out in the crowd!
There is never a charge for this service!
Here are some tips you can work on to enhance your home's interior:
* Give every room in the house a thorough cleaning and REMOVE ALL CLUTTER. Since
you have made the decision to sell and move...let's start packing!
This is going to make your home appear bigger and brighter. If necessary rent a storage
garage and move furniture out to create a sleeker, more spacious look.
* Remove the less frequently used and even daily-used items from kitchen counters and
closets to make these areas more inviting.
* Make sure that table tops, dressers and closets are always free of clutter.
* Pay special attention to bathrooms and kitchen which should look modern, bright
and as fresh as possible. It is essential for them to be clean and odor free.
* Repair or replace dripping faucets and showerheads.
* Buy showy new towels for the bathrooms and put out "just for showings".
* Spruce up a kitchen that needs more major remodeling simply by replacing cabinet
hardware, installing new window treatments and applying a fresh coat of neutral paint.
* Clean all walls, woodwork and doors of smudges and scuff marks.
* Repaint strongly-colored walls with a neutral shade of paint. This same neutral theme
can be applied to carpet and tile.
* Repair any cracks, leaks and signs of dampness.
* Repair any cracks and/or holes in walls, wallpaper, paint or tiles.
* Replace cracked or broken windowpanes, moldings and other woodwork.
* Inspect and repair the plumbing, heating and cooling systems.
The following articles are a great place to start if you're looking for information about the sales process and how you can get more for your home when you decide to sell.